We at NYC-ARECS feel that it is important to educate children in the art and science of radio communications.
Presented here are The Adventures of Zack and Max, comic books created by Icom Corp. which are designed to provide some basic information about ham radio, giving a glimpse into its history, its applications, and its relevance in the world today. Whether you're a student or an adult, this book tells a story about ham radio which we hope you will read again and again.
As the editions change, you will find Zack and Max share with us what they learn about emergency preparedness and communication. Zack, Max and Mady, along with their family and friends, participate with their ham club in an emergency drill. At the drill they learn how to set up a station during an emergency, experience advances made in digital modes and help others in their community through amateur radio. Enjoy "Super Max" as he helps old and new friends get on air, and help others!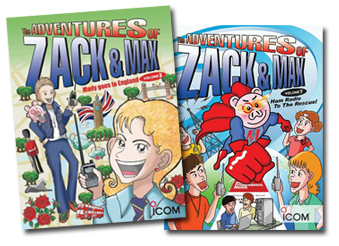 Volume 1 The Odyssey Begins (Download)

Volume 2 Lost in Seattle (Download)

Volume 3 Mady goes to England (Download)

Volume 4 Fun at Field Day (Download)

Volume 5 Max in Space (Download)

Volume 6 Lets Go Island DXing! (Download)

Volume 7 Ham Radio To The Rescue! (Download)


The emergency communications edition